Gamma Control
Download
Gamma Control 4.0 → $6.99 on michelf.ca Store or Mac App Store

For OS X 10.6.6 and later. Released December 18, 2013
Description
Gamma Control lets you quickly adjust the gamma correction curve of your Mac's display. Use it to calibrate the screen for new ambiant conditions without having to go to the ColorSync Calibration Assistant in the System Preferences.
Gamma Control can also be used to simulate the effect of various screen calibrations on pictures and videos. You can save your gamma settings in documents and reopen them as needed to reproduce various conditions over and over.
You can easily toggle on or off the application of Gamma Control's settings to the screen through a hotkey or by clicking on its dock icon.
The changes you make in Gamma Control are not permanent and the default gamma correction curve will be restored when you quit.
If you have multiple monitors, simply move the window to the screen you want to calibrate and the settings you make will only affect that screen. There's also an option in the preferences in case you want all screens to share the same settings.
Gamma Control is used by designers and photographers to improve the reliability of the colors on their screen. Other professionals adopted it to match the screen color temperature with the lighting on film sets, for when a screen is put in front of the camera.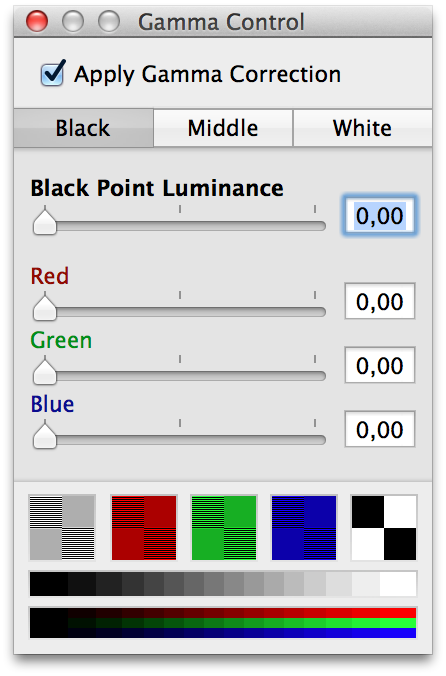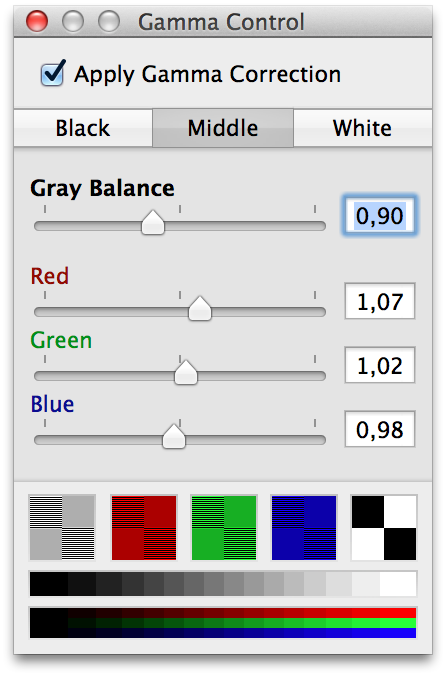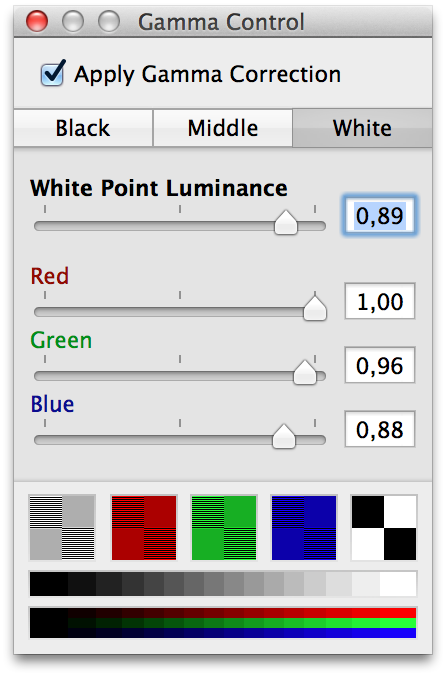 Tips
Hold on the shift key while dragging the red, green, or blue slider to move all three together.

Calibrate one screen at a time by setting the Affected Screens setting in Gamma Control's preferences to "Screens touching control window".
Requirements
OS X 10.6.6 Snow Leopard or later. Moving Gamma Control's icon from the dock to the right side of the menu bar requires OS X 10.7 Lion or later.
For an earlier version of OS X (down to 10.2.8), use Gamma Control 3.0.3.
Known issues
When another application changes the gamma curve of the screen, default gamma settings resets when it closes. This happend with most screen savers. You will need to click again on Gamma Control's icon in the dock to reactivate the effect. To work around this problem, you may tell Gamma Control to continuously reapply the correction from the preferences, which will reapply gamma correction each 8 seconds.
If you find another issue, let me know by email at michel.fortin@michelf.ca.
Version History
Gamma Control 4.0 (16 December 2013)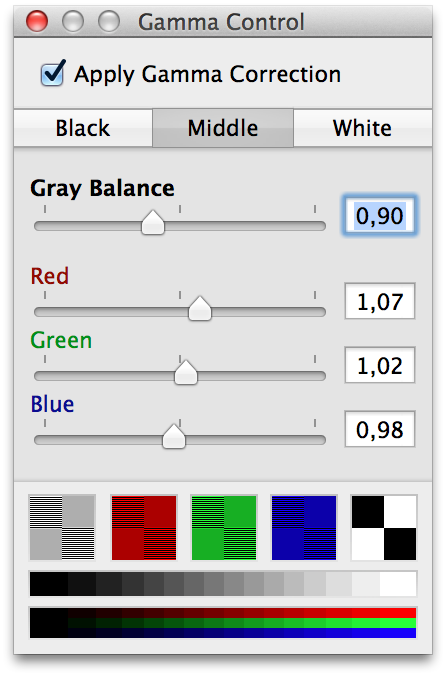 Can now set a global hotkey to toggle effect activation.

With OS X 10.7 or later, can now hide dock icon and have a Gamma Control menu item at the right side of the menu bar.

Added controls for the global luminance of the black and white points.

The "Remember correction when quitting" setting is now on by default.
Gamma Control 3.1.1 (September 18, 2013)
Fixed a problem that would prevent Gamma Control from launching on OS X 10.6 and 10.7.
Gamma Control 3.1 (1 September 2013)
Sandboxed and available on the Mac App Store.

Added special calibration targets for Retina screens, showing a a tighter horizontal line grid matching the doubled resolution of those screens.

Fixed an issue where the correction would reapply automatically after quiting an application even when "Apply Correction" is unckecked.
Gamma Control 3.0.3 (6 March 2006)
Fixed a problem where Gamma Control was unusable under Mac OS X 10.3.9.
Gamma Control 3.0.2 (12 December 2005)
Fixed a problem where Gamma Control would crash at startup when running on Mac OS X 10.2.8.
Gamma Control 3.0.1 (9 December 2005)
Corrected a bug where it failed to update the gamma settings after a text field was edited, and where some text fields would not accept values in the correct range.

Native support for Mac OS X on Intel processors.
Gamma Control 3.0 (2 November 2005)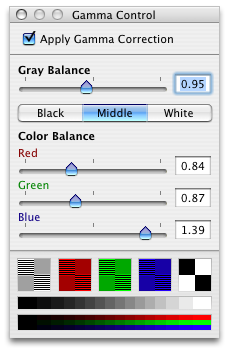 User interface

Added text fields to edit correction values.
Added color names — red, green, blue — over each slider; before that you had to guess or experiment to find them.
Replaced the simple mode with an option to show or hide color targets.
Better VoiceOver support.

Problems have been solved with the option "Affected Screens: Screen touching control window" which should now work as expected.

In previous version, this option worked correctly only when all screens where side-by-side and had the same vertical size (in pixel).

(I would have corrected this before, only until this month I hadn't a second screen to test Gamma Control on .)

A new preference setting allow the gamma correction to be reapplied continuously.

This should help keeping the gamma correction stable when another application or a screen saver reinitialize it. When this happens, Gamma Control should now reapply in the next 8 seconds.
Gamma Control 2.2 (22 June 2003)
You can now drag the three knobs linked together by pressing shift key.
Added a preference to not open control window at launch.
Corrected a bug that could prevent a second screen to be adjusted.
Corrected a bug where a click on dock icon could activate correction even if the activation check box was unchecked in control window.
The application can load Photoshop curve files in .amp format. It is still not possible to edit these files.
Gamma Control 2.1 (20 April 2003)
Added the functionality to save and load settings to files.
Control window is now in advanced mode by default.
Preferences are now reachable using a keyboard shortcut.
Gamma Control 2.0 (16 February 2002)
Setting window is now a floating utility window
Gamma Control does not quit anymore when the setting window closes
Gamma curve is restored when quitting
Advanced mode to adjust each color channel separately
Multiple monitor support

It is now possible to change correction separately for each screen

Toggle option: click on the dock icon to activate and deactivate correction
Gamma Control can remember settings between openings
Gamma Control 1.0 (16 October 2001)
Simple setting window – Mac OS X Public Beta version