Black Light
Apply special vision effects on your screen.
Download (2.3.5) / Buy direct or Mac App Store

Also check Black Light Pro for more advanced features.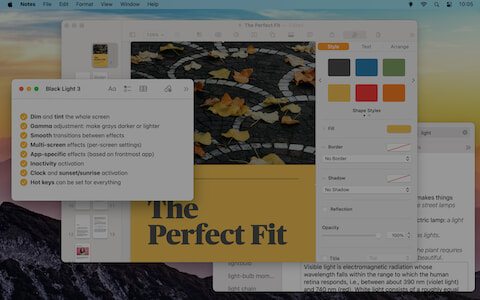 With Black Light you can apply a combination of visual effects to your screen by manipulating the gamma curve. Opening Black Light will automatically apply the selected effects. Quitting the application will restore the original settings.
Visual Effects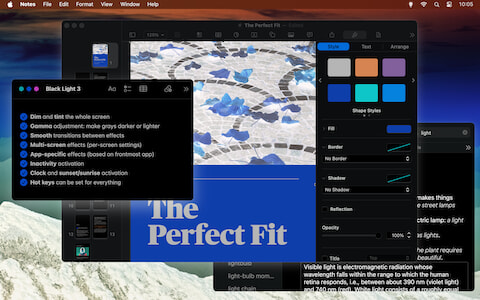 Invert Screen
Reverse blacks and whites, giving you a negative of the image on your screen.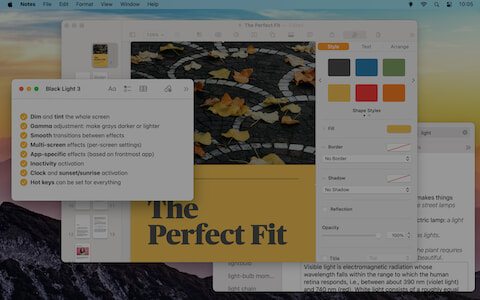 Dim Screen
Reduce screen luminosity by dimming each pixel. Useful to reduce the luminosity of LCD screens beyond the minimal value of the back light.
Color Filter
Simulation of a color filter of a chosen color put in front of the screen. Lets you change the tint by setting the white point.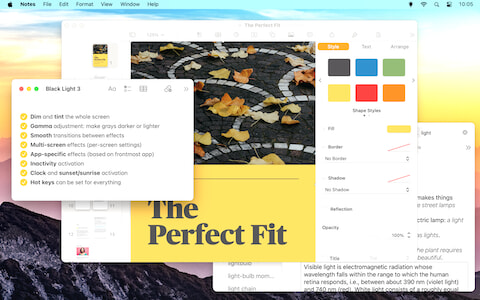 Overexposure
Replace white grays with white to remove stripes, making white the background of most windows. Ligher colors might change hue slightly.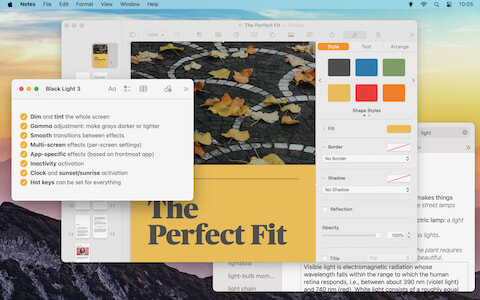 HDTV Luminance Adjustment
Adapt image for the 16–235 luminance range used by some high-definition television sets when connected by HDMI. Normally, your computer should be capable of automatically adusting output values accordingly, but this isn't always possible when the TV is connected through an adapter.
Combine them your way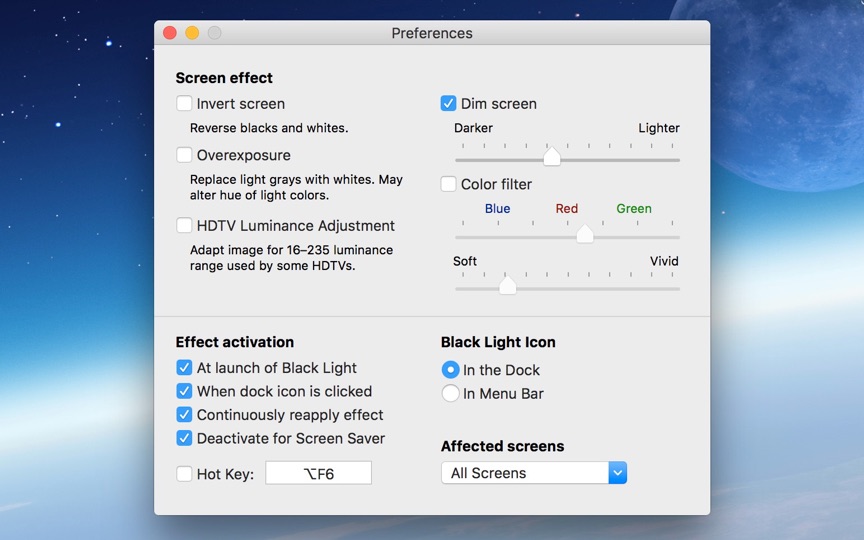 Black Light's simple preference panel let you combine effects with all the ease in the world.
Want a dimmed screen with a yellowish tint to help you sleep at night, here you go! A red-only inverted screen for your astronomy night, simple as a pie!
Always quick to toggle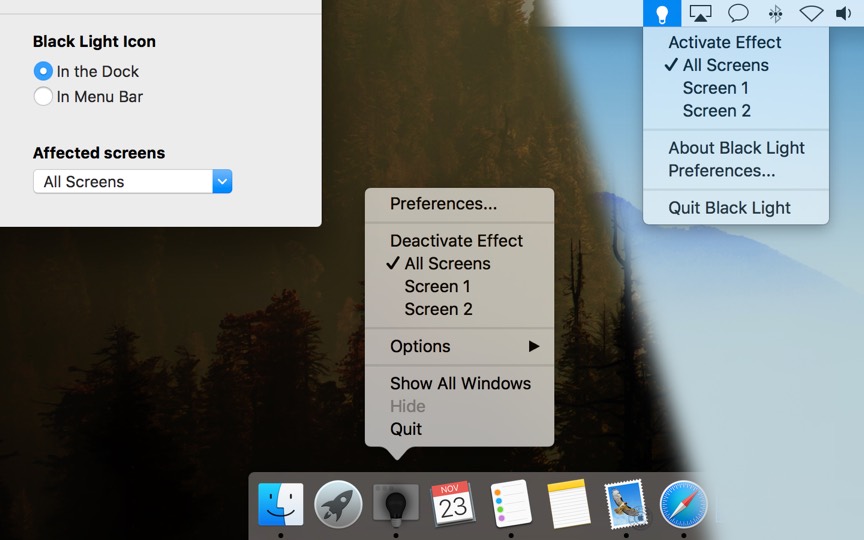 You can toggle the selected effect combination by clicking on the Black Light icon in the dock. Or you can set a global hotkey. Or use the optional Black Light menu icon that can appear on the right side of the menu bar1.
Requirements
OS X 10.7 Lion or later.
The invert filter does not work in macOS Sierra 10.12.4 through 10.12.6 due to a bug in macOS. Upgrade to High Sierra to get a functionning invert filter.
For OS X 10.6, use Black Light 2.3.2.
For an earlier version of OS X (down to 10.2.8), use Black Light 1.7.1.
Works with Night Shift

Black Light and Night Shift are good friends. If your computer supports Night Shift, you can use it together with Black Light to automatically make the screen's colors warmer at night. Note however that with combined with the Invert Screen filter Night Shift will give your screen a light blue tint.
---
The option to display an icon in the menu bar is only available with OS X 10.7 or later. ↩︎
Vision & Color Apps