What's new in Gamma Control 6
Gamma Control 6.1 adds the Launch Gamma Control at Login checkbox in preferences. This is the most reliable way to ensure the app is always active after a restart.
Gamma Control 6.0 can be configured remotely using Gamma Board on iOS. It added a dark mode for the control window. There is a new big resizable calibration pattern window. It brings Touch Bar support and arrow key support in text fields. It is unhindered by full-screen apps.
Detailed History
Version 6.2.1 (27 March 2019)
Fixing an issue with some video adapter misreporting its serial number. (Gamma Control uses the serial number to identify screens when possible.)

Reseting gamma curve more proactively on quit, instead of counting on macOS to do it for us. This does not change the behavior of the app but resolves a somewhat nebulous issue with video capture and/or playback with certain applications on particular hardware configurations.
Version 6.2 (23 September 2018)
Reading the color profile directly instead of reading the current values in the screen display transfer table. This should avoid situations where the effect is applied twice after a screen reconfiguration.

Fixed appearance bugs in macOS Mojave and added support for dark mode
Gamma Control 6.1 (11 April 2018)
Launch Gamma Control at Login is a new checkbox in the preferences that will automatically launch the app. This is the most reliable way to ensure the app is always active after a restart. This is the most reliable way to ensure the app is always active after a restart.
Gamma Control 6.0 (24 July 2017)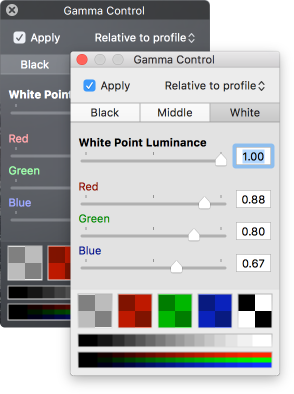 Can now configure gamma settings remotely from any iOS device using the Gamma Board app. This works over the local network and must be activated in the preferences.

Click on the calibration patterns to display them in a separate window, which is bigger, resizable, and can also display a new grayscale pattern.

Gamma settings are now remembered by the screen's serial number. This is useful when switching graphic cards with dual-GPU MacBook Pros.

Added a dark mode option making the window semitransparent black. Requires macOS 10.10 (Yosemite) or later.

Can now use the up and down arrows keys to increase or reduce values in text fields.

Can now use the Touch Bar to change the gamma settings on Macs that have a Touch Bar.

The Gamma Control window can now move over full screen apps.

The app icon will no longer bounce in the dock when launched. This was rather distracting when the app was set up to appear as an icon in the menu bar.

Modernized app icon. Also refreshed the app icon in the menu bar, if you set the app to show up there.
Gamma Control 5.0.2 (29 June 2016)
The tab selected when openning the app is now the same as the last time the app was quit.

Fixed an issue where it could occur that one of the values would unexpectedly change when launching the app and the control panel is set to immediately appear.
Gamma Control 5.0.1 (2 May 2015)
Scrolling up with a mouse wheel or trackpad gestures over a slider moves its value upwards. This was working in reverse if natural scrolling direction is unchecked in System Preferences. Fixed.

Fixed a bug where opening a multi-screen setting file would not work when Gamma Control isn't already launched.

Fixed a mistake that would make the previous version of Gamma Control unable to work on 32-bit processors.
Gamma Control 5.0 (15 March 2015)
Gamma settings are now combined with the default system gamma curve, using the curve from system color profile as a starting point. You can still choose the old behaviour if you prefer.

Set a hotkey to make the gamma settings panel appear right under the mouse pointer. Hold the key while you make your changes, the panel will disappear on release.

Manipulate the sliders with precision using a mouse wheel or scrolling gestures.

You can choose to save the gamma curves for multiple screens in a single file, and restore them all by opening that file.
Gamma Control 4.0.1 (29 July 2014)
Fixed an issue where some preferences would not work in the English version of the app.

Added saving and opening setting files in the menu under the app icon when put in the menu bar.
Gamma Control 4.0 (18 December 2013)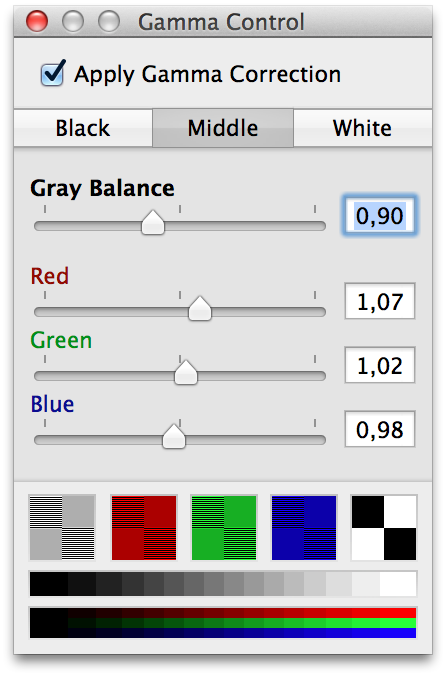 Can now set a global hotkey to toggle effect activation.

With OS X 10.7 or later, can now hide dock icon and have a Gamma Control menu item at the right side of the menu bar.

Added controls for the global luminance of the black and white points.

The "Remember correction when quitting" setting is now on by default.
Gamma Control 3.1.1 (September 18, 2013)
Fixed a problem that would prevent Gamma Control from launching on OS X 10.6 and 10.7.
Gamma Control 3.1 (1 September 2013)
Sandboxed and available on the Mac App Store.

Added special calibration targets for Retina screens, showing a a tighter horizontal line grid matching the doubled resolution of those screens.

Fixed an issue where the correction would reapply automatically after quiting an application even when "Apply Correction" is unckecked.
Gamma Control 3.0.3 (6 March 2006)
Fixed a problem where Gamma Control was unusable under Mac OS X 10.3.9.
Gamma Control 3.0.2 (12 December 2005)
Fixed a problem where Gamma Control would crash at startup when running on Mac OS X 10.2.8.
Gamma Control 3.0.1 (9 December 2005)
Corrected a bug where it failed to update the gamma settings after a text field was edited, and where some text fields would not accept values in the correct range.

Native support for Mac OS X on Intel processors.
Gamma Control 3.0 (2 November 2005)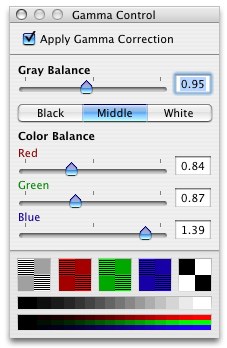 User interface

Added text fields to edit correction values.
Added color names — red, green, blue — over each slider; before that you had to guess or experiment to find them.
Replaced the simple mode with an option to show or hide color targets.
Better VoiceOver support.

Problems have been solved with the option "Affected Screens: Screen touching control window" which should now work as expected.

In previous version, this option worked correctly only when all screens where side-by-side and had the same vertical size (in pixel).

(I would have corrected this before, only until this month I hadn't a second screen to test Gamma Control on .)

A new preference setting allow the gamma correction to be reapplied continuously.

This should help keeping the gamma correction stable when another application or a screen saver reinitialize it. When this happens, Gamma Control should now reapply in the next 8 seconds.
Gamma Control 2.2 (22 June 2003)
You can now drag the three knobs linked together by pressing shift key.
Added a preference to not open control window at launch.
Corrected a bug that could prevent a second screen to be adjusted.
Corrected a bug where a click on dock icon could activate correction even if the activation check box was unchecked in control window.
The application can load Photoshop curve files in .amp format. It is still not possible to edit these files.
Gamma Control 2.1 (20 April 2003)
Added the functionality to save and load settings to files.
Control window is now in advanced mode by default.
Preferences are now reachable using a keyboard shortcut.
Gamma Control 2.0 (16 February 2002)
Setting window is now a floating utility window
Gamma Control does not quit anymore when the setting window closes
Gamma curve is restored when quitting
Advanced mode to adjust each color channel separately
Multiple monitor support

It is now possible to change correction separately for each screen

Toggle option: click on the dock icon to activate and deactivate correction
Gamma Control can remember settings between openings
Gamma Control 1.0 (16 October 2001)
Simple setting window – Mac OS X Public Beta version